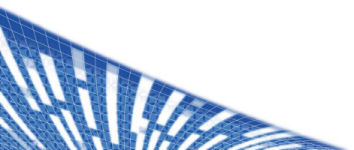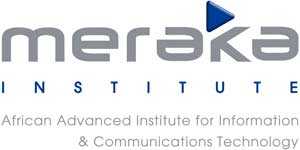 The Launch of the W3C Southern Africa Office
The W3C and Southern Africa
14 May 2007
W3C Southern Africa Office Opening
Meraka Institute, Pretoria, SA
Dr Quentin Williams (Meraka Institute)
Presentation Outline
African objectives
Why W3C membership
The Meraka Institute
Obstacles
The Southern Africa Office


A Different way of thinking
Structure & Organisation
General African Objectives
Increase investment in African countries
Compete internationally on equal footing
Broaden participation in Africa and internationally
Build a better world
Improve on the capacity to deliver
Investment– Competitiveness – Inclusion – Better world
Africa and ICT
ICT has demonstrated impact on economic progress and positive impact on development
Realizing the benefits of ICT require creation and adaptation of technology addressing specific challenges and opportunities in our context
South Africa has not been investing in ICT R&D, participation and creation as much as other countries
Consequent lag in:


Human capacity
Technological improvement and expense
Innovation Performance
Why W3C membership?
International consortium of leading companies
Keep abreast of and influence the changing directions in the technology domain
Competitive advantage and ensure continual growth
International exposure and recognition
We can contribute:


Mobile Web
Mobile Internet Banking
Web Research
Wireless Connectivity
New African specific ways of Web delivery
Change from adaptation to incorporation
Roles of a W3C office
Recruit stake-holders in the region: introducing them to W3C, developing relationships with local technology or policy leaders, and guiding organizations through the steps for joining W3C.
Provide support for existing W3C Members in the region.
Provide feedback to W3C on regional issues.
Promote the adoption of W3C Recommendations
Vendor Neutrality
A Contributing Member
Established network of Contacts
The Meraka Institute
African Advanced Institute for Information and Communications Technology (AAIICT)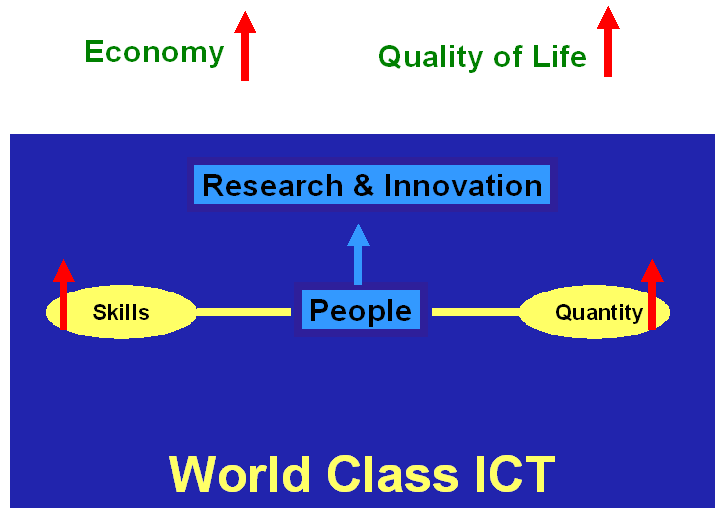 Meraka
The African Advanced Institute for Information & Communication Technology (ICT):
Strategic purpose:

Strengthen and grow advanced human capital in ICT
Enable critical mass and focus in ICT research for beneficial impact
Contribute to strong and robust innovation chain
SA and Africa scope

Timeline:

State of the Nation Address - February 2002
Implementation delegated to CSIR – Mar 2004
Commencement of operations – 1 April 2005
Launch of Meraka by Dept of Communications Minister 17 May 2005

Meraka = common grazing ground (Sesotho)

Shared space for creative productivity
Emphasize African nature of scope and needs
Meraka Dimensions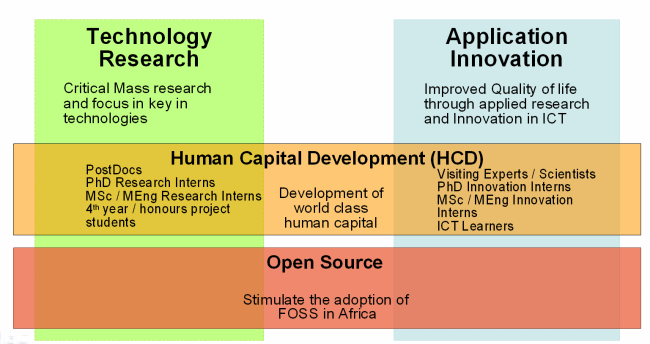 This slide contains an image illustrating the Meraka Institute's dimensions. There are two blocks namely Technology Research which highlights the Meraka Institute's objective to achieve critical mass research and focus in key technologies, and the other block titled Application Innovation illustrates the Meraka Institute's objective to improve the quality of life through applied research and innovation within the information and communication technology sector. There are two more blocks that span between the two main blocks that firstly depict the crosscutting aspects of the Meraka Institute's human capital development initiative and secondly the Meraka Institute's commitment to use and promote the use of Open Source software.
Meraka technology R&D examples –Intelligent Environment for Independent Living (Web Accessibility)
To do World-class R&D that changes the lives of people with disabilities for the better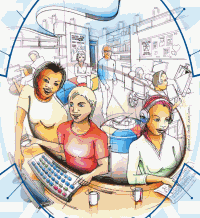 Meraka technology R&D examples – Intelligent Environment for Independent Living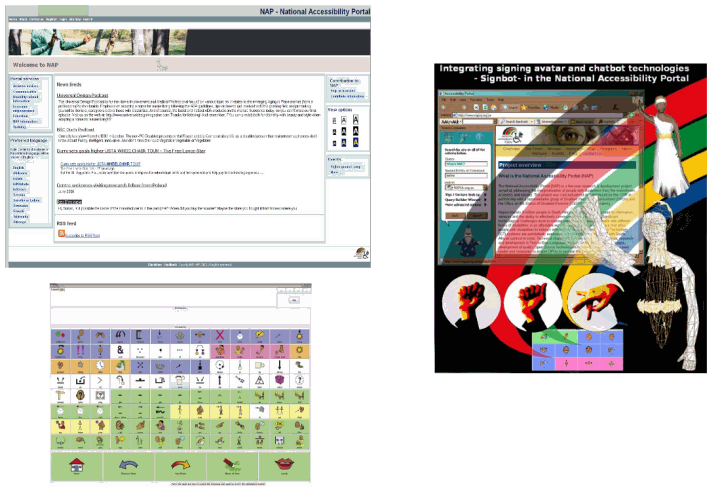 Meraka technology R&D examples – Human Language technologies (Speech synthesis markup-language)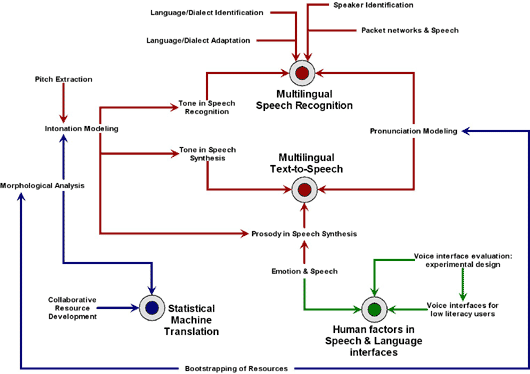 Meraka technology R&D examples – MobiLed (Mobile Web)
The Web (ex. wikipedia) can be accessed by sending an SMS with a key word.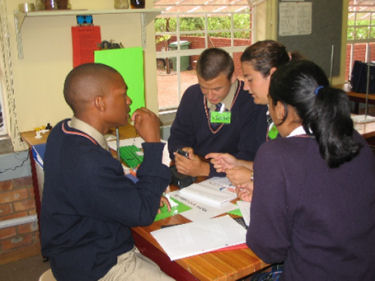 The service call back and plays the information, making use of text-to-speech conversion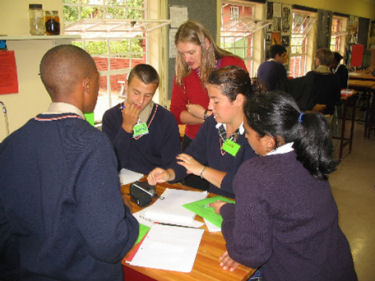 Meraka R&D and potential W3C participation
IE4IL - Web Accessibility, OWL, Semantic Web ( Web Ontology Language), Multi-modal Interaction Activity, amongst others
HLT – Semantic interpretation for Speech recognition, Speech synthesis mark-up language
Mobiled – Mobile Web Initiative
Remote Sensing – Geo-Informatics
ICT Access – Web connectivity
Why be part of W3C?
No doubt W3C membership will bring benefits to government, academia and industry thanks to global participation and exposure
Vice versa, We have something to add to W3C thanks to our own innovative technologies and local flavour
Diversity, Broad participation, Localisation
Obstacles
Lack of Cohesion; operating in isolation
Lack of awareness
Expense

Non-Profit or government: 3900 EUR
Profit with gross revenue 30.6m – 51m: 6500 EUR
Gross revenue between 51m - 204m: 26 000 EUR
Gross above 204m: 65 000 EUR

Distance and travel
Challenge for W3C
How a local office can help:
A different way of thinking in the developing world context?
Local Office must act as relay between W3C and local stakeholders
Bringing stakeholders together to reach consensus, then take their needs, opinions, voices, innovation to the W3C
Similarly convey W3C standards, policies & recommendations to local stakeholders
Act as reference point to establish, promote, grow and maintain local network
Power of Community
Mechanisms to help
Personal contacts, build the network, audience today as start
Regular local seminars, workshops and conferences
Continuous participation on W3C working groups & forums
Feedback through the network
Use W3C experience, expertise to assist in local technology & policy development and standardisation
Structure of Southern Africa office
Scope: Botswana, Lesotho, Namibia, Zimbabwe, South Africa and Swaziland, but to grow to all SADC countries
Currently staffed by 2 permanent Meraka employees, housed in the IE4IL group: Quentin Williams, Martin Pistorius supported by manager, Hina Patel
Immediate Future: Build a W3C office team to administer and perform all duties.
Grow participation with W3C working groups starting with the Meraka Institute
First Workshop today: Putting Africa on the Internet Map (example of things to come)
Thank You!!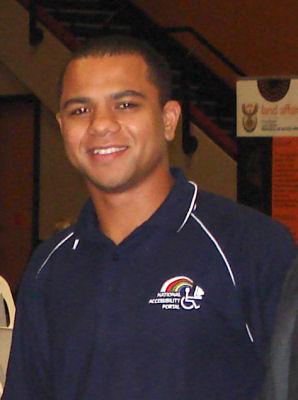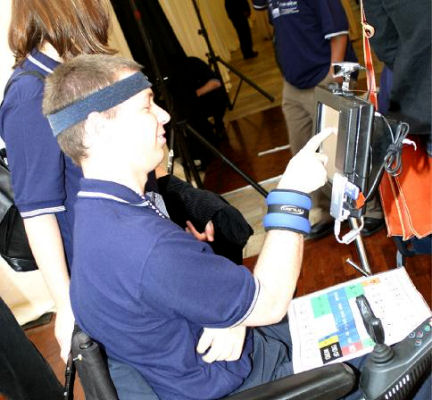 We're at the start, but together we'll build the African Web community
Back to the Southern African Office Presentations